Charities & Sponsors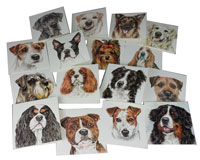 GUIDE DOGS FOR THE BLIND
From 2018, WaggyDogz cards, featuring Christine Varley dog breed illustrations, now supports the Guide Dogs as a charity card. The aim is to raise enough money to support a Guide Dog puppy throughout its training. As well as all your favourite dog breeds, there are Cats, Farmyard and Wildlife designs to choose from. You can purchase these cards and other products on the WaggyDogz Website.
THE DOGS TRUST

WaggyDogz cards featuring Christine Varley dog breed illustrations raised money for the Dogs Trust between 2013 and 2017.

THE BROOKE
A prize of a commission is raffled at Horse of the Year Show raising over £1000 each year for this important charity. The international animal welfare organisation is dedicated to improving the lives of working horses, donkeys and mules in some of the world's poorest communities. The Brooke provide treatment, training and programmes around animal health and wellbeing, operating across Africa, Asia and Latin America.
THE KENNEL CLUB

The Bark & Read Foundation has been set up to support and promote the amazing work of charities that take dogs into schools as reading volunteers to help tackle the UK's literacy problems.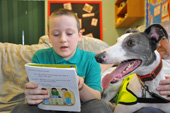 Funded by the Kennel Club Charitable Trust, the Bark & Read Foundation is working with Pets As Therapy, through their Read 2 Dogs project, and R.E.A.D (Reading Education Assistance Dogs), both of which operate in schools around the country, helping children to read with their specially trained support dogs.
Reading to dogs has been proved to help children develop literacy skills and build confidence, through both the calming effect the dogs' presence has on children and the fact that the dog will listen to the children read without being judgemental or critical. This comforting environment helps to nurture children's enthusiasm for reading and provides them with the confidence needed to read aloud.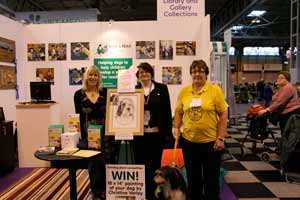 Competion on the Kennel Club Stand at Crufts 2023 in aid of the Bark & Read Foundation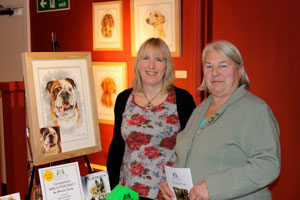 Official opening of the Kennel Art Exhibition, London. The Exhibition features original paintings from 14 of the top dog artists in the country. Here is Christine Varley with Pat Sutton of the Kennel Club Gallery board, surrounded by her original paintings, launching the Pet Portrait competition in aid of the Bark and Read charity.