Choosing & Taking Photos
Send your photos via email for feedback regarding suitability/possible poses, layout for portrait.
For best results photos need to be close up with good detail.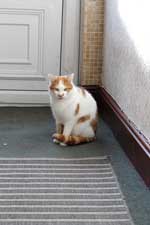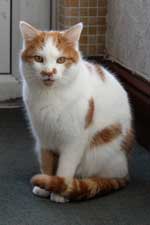 Choose photos that show a typical pose and expression.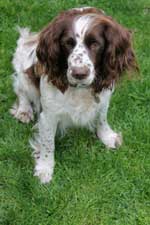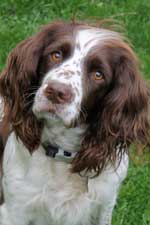 If you have them, send any photos for extra details.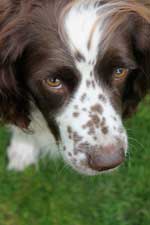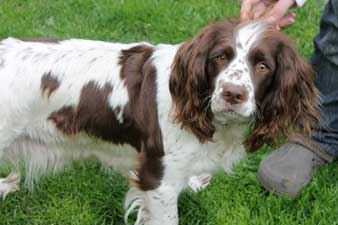 For example - The left photo shows nose markings and eye colouring. The right photo shows the body.
Sometimes two photos can be joined together to create the perfect portrait.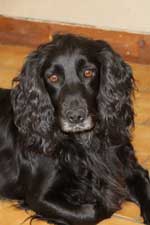 Body from the left photo, head from the right photo.

Backgrounds
For head portraits I generally do a pale colour wash behind the head. For full body portraits I can change the background from the one in your photo - a scene from your garden or other memorable place. I can also include toys, trophies or rosettes to personalise your portrait. Please send any relevant photos.
Group portraits
Pets do not have to be in the same photo, I can work from individual photos. If you have a group shot of them together please send this.
Tips on taking Photos
The following information is a guide for how you can get the best results when taking photos. If you experiance problems please book a Photo Shoot.
Hold your Dog!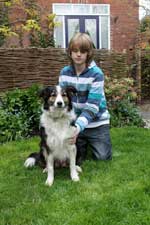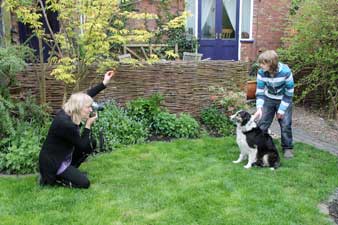 Take your photos outside if possible. If your dog moves forward get someone to hold it. Get down at eye level with the dog. You can hold up a toy or treat to get the dogs attention or have someone behind you making noises.
Horses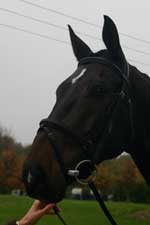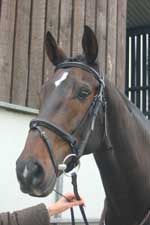 Choose good lighing to photograph your horse. For head portraits, get close up to the horse. Make sure the ears are 'alert' looking. To get the horses attention you can get someone to make a loud noise. I.E. Rattle a gate, food bucket, clap etc. Make sure this is done behind the camera. If you want the portrait painted without the head collar, please remove this before taking the photo. A good place to photograph a horse is over a stable door.

The Picture
The better the quality of the photograph the better the end result portrait. The subject matter (dog, cat, elephant) should fill the frame rather than the subject being a small spec on the photograph. A 3/4 head shot is better than having a straight on photo for most breeds, as this stops the noses looking too flat and gives dimension to the face.
Inside or Outside ?
Natural lighting is best - try to take the photos when the sun is not too bright. If you have a black pet (dog, cat) try to take the photos on a cloudy day. If you find that you have to take the shot inside then any flash problems can be ironed out in most cases by sending extra photos to assist with the normal colourings (for example eyes affected by use of flash).
Getting your Pet to Sit Still
Some pets when faced with a camera are a bit unsettled, so act naturally and encourage your pet with treats and toys to make it fun! The portrait can be painted from multiple photos, so if the photo is not quite right in one (i.e. ears down, mouth open), then we can work from several photos to produce the desired portrait. (Artistic licence)
If you experience great difficulty, enlist a friend to help you get the perfect pose.
If you need any extra help email or telephone us on UK +44 1544 318463 to arrange a photo sitting for your portrait at the studio.
We will be happy to discuss any aspect of portrait commissions with you.