Choosing & Taking Photos
Email
Email your photos so we can give you feedback.
Post
Send a disc or post your prints to me. (Contact)
Choosing Photos
For best results photos need to be close up with good detail.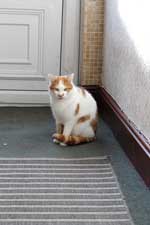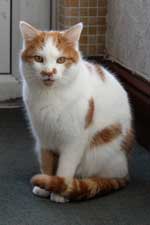 Choose photos that show a typical pose and expression.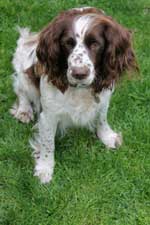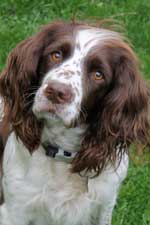 If you have them, send any photos for extra details.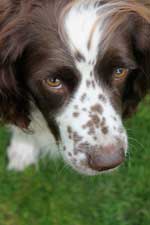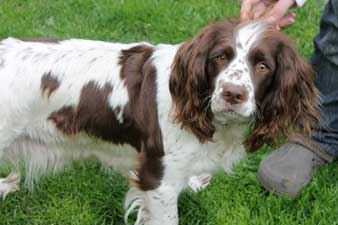 For example - The left photo shows nose markings and eye colouring. The right photo shows the body.
Sometimes two photos can be joined together to create the perfect portrait.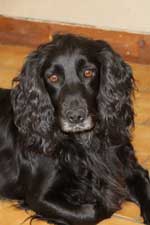 Body from the left photo, head from the right photo.

Backgrounds
For head portraits I generally do a pale colour wash behind the head. For full body portraits I can change the background from the one in your photo - a scene from your garden or other memorable place. I can also include toys, trophies or rosettes to personalise your portrait. Please send any relevant photos.
Group portraits
Animals do not have to be in the same photo, I can work from individual photos. If you have a group shot of them together please send this.
Tips on taking Photos
The following information is a guide for how you can get the best results when taking photos. If you experiance problems please book a Photo Shoot.
Hold your Dog!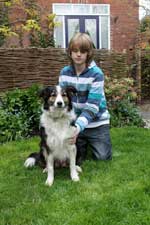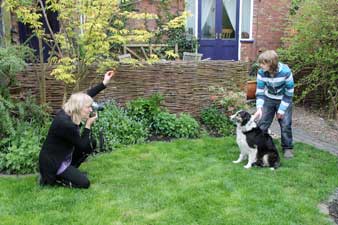 Take your photos outside if possible. If your dog moves forward get someone to hold it. Get down at eye level with the dog. You can hold up a toy or treat to get the dogs attention or have someone behind you making noises.
Horses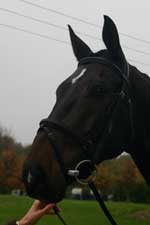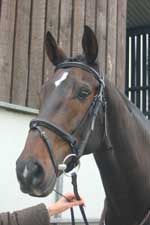 Choose good lighing to photograph your horse. For head portraits, get close up to the horse. Make sure the ears are 'alert' looking. To get the horses attention you can get someone to make a loud noise. I.E. Rattle a gate, food bucket, clap etc. Make sure this is done behind the camera. If you want the portrait painted without the head collar, please remove this before taking the photo. A good place to photograph a horse is over a stable door.

The Camera
For pet portraits, the better the camera the better the photograph. If possible use a good quality camera to take photographs. This ensures a good quality picture to work from.
Digital Cameras
Most people use a digital camera so ensure that the resolution is of good quality ( 2M pixels and above) will allow the photo to be enlarged. There is often a "lag" from pressing the shutter button on a digital camera to when the photograph is taken. You will have to allow for this.
Pictures from Phones
Mobile phones can take great pictures but can be distorted in terms of colour. If you use a phone then ensure the maximum resolution is set and picture is taken in daylight. Check the picture to compare colours
The Picture
The better the quality of the photograph the better the end result portrait. The subject matter ( dog , cat, elephant ) should fill the frame rather than the subject being a small spec on the photograph. A 3/4 head shot is better than having a straight on photo for most breeds, as this stops the noses looking too flat and gives dimension to the face.
Inside or Outside ? Most photographs are clearer outside - However if you want a portrait of a cat the chances are that it will run away if it is outside so it is a case of common sense. Try to take the photos when the sun is not too bright and try to avoid huge shadows. If you have a black animal ( dog, cat ) try to take the photos on a cloudy day. If you find that you have to take the shot inside then any flash problems can be ironed out in most cases by sending extra photos to assist with the normal colourings (for example eyes affected by use of flash).
Getting the animal to sit still
Some animals when faced with a camera act as if you are pointing a gun at them. The fact that they do not have their picture taken regularly means that it is a strange object, and consequently they are intrigued about the camera. Try to act as if it is nothing special, let them see the camera and check it out.
The portrait can be commissioned from multiple photos, so if the animal is not quite right on one ( ie ears down) and not quite right on another ( ie mouth open & tongue hanging out ten feet) we can work from both photos to produce a better portrait. ( Artistic licence )
Impossible - !!!!
If you experience great difficulty, try getting someone else to take the photo whilst you distract the animal.
We have never yet failed to find a method to distract a dog or cat. Red eye reduction works well with animals and provides something to get their attention as do toys, squeakers and food.
If all else fails contact us by Email or telephone us on UK +44 (0) 1283 215561. we can arrange a photo sitting for your portrait.
We will be happy to discuss any aspect of portrait commissions with you.